Now, a little bit about film...
1. the Passiona of Christ
God knows I won't be seeing this one, but let me nonetheless have a little rant about it! Why is it getting so much damn free publicity? Since when is a movie release by Mel Gibson news in itself? particularly when it is not like he thought up anything original - there are more movies about jesus than you could fill a "christian thicket"
website
with. i don't know why mel didn't just title it "gladiator II: turn the other cheek"
2. the Princess and the Warrior ("Der Krieger und die Kaiserin")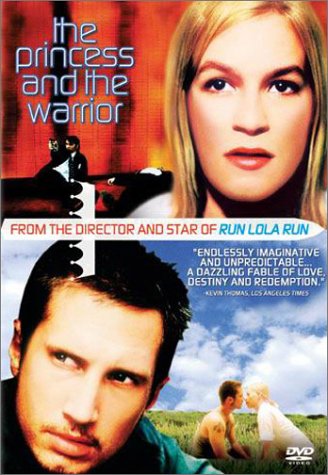 First of all, i must comment on the astounding metaphor in the title of this film - it is called 'the princess and the warrior', when it is really about a nurse and a bank-robber - wow!
same main actor (franka potente) and same director (tom tykwer) as run lola run, but a bit less engaging, and far less plausible. Also concerned with the question of "fate" though, and having the chance to re-make those turning point decisions.
3. requiem for a dream
depressing? just a
*leetle*
bit! this film almost reaches lilya4ever in the crushing stakes, and touches on some similar material on desperation and sex-slavery. it is so crisply done, and its images and symbols are burned so repetitively into your mind, that this movie itself almost requires a few weeks in de-tox to recover. in some ways the anti-drugs message is a bit too clear, too blunt and simplistic, and rings a little of "it all starts out fun, but ends badly". Nonetheless it also gives a good study of the alienation and loss that drive addiction, and of the inadequate and damaging responses that law and medicine make to those suffering it. jennifer connelly is fantastic, ellen burstyn devastating. made me feel mentally ill.